Review of ''PLAY'' exhibition by BEARSPACE Gallery at the Cello Factory, Cornwall Road, Waterloo, London
1st –- 4th November. open to the public, 12.30-5pm
5th –- 16th November: by appointment only
Hidden away, set back from the road and on a street where the numbers don't follow numerically makes this exhibition quite hard to find initially. Nestled just off London's south bank amidst the arts and cultural giants such as TATE, Hayward Gallery, BFI &etc… This latest offering from BEARSPACE gallery, found in their temporary one show only location at the Cello Factory in Waterloo is well worth hunting for. Why venture to visit the low key event of BEARSPACE against the latest sensations elsewhere? Quite simply, in the next ten years it will be these artists the crowds will be queuing to view at big name venues elsewhere. Occupying this show are fresh, young, exciting artists (as well as some more established) and undoubtedly there is something splendid about discovering such a special gem like this that is personally satisfying.
On show is a collective of 17 artists, some collaborative, whose nationalities include Japanese, American, English and Scottish. These like minded contemporary artists have been brought together by the refreshingly energetic young curator Julia Alvarez. "BEARSPACE tries very much to reflect a certain zeitgeist or current philosophy" , Alvarez admits. The exhibition offers works by emerging artists and more established successful artists the like of Anya Gallacio and the Chapman Brothers. The overall collective ethos of the show seems to ring out as something akin to the European Dada of the early twentieth century, with an over crowded opening night to match. The teasing nature of these rebellious works form a spirit which may come to be seen as a New Wave Dada for the 21st century, the prospects of which invigorate imaginations and capture glimpses of life in the digitally mediated age we live. But is the underlying methodology of this exhibition as radical in its delivery as Alvarez sees it?
The show is a sophisticated look at play and as Alvarez notes, "the artists that we show have past into adulthood and obviously they are able to look at play in a more subjective way, perhaps draw out child hood memories to look at culture and how play can often be related to darker activities and vulnerabilities". No longer innocents and certainly not naive these artists reflect on youth. The artists' here present works as homage to youthful play, nostalgically referencing childhood exuberance and teenage angst. The show is also ahs an element of play for the senses. The visual stimulation of Doug Fishbone's video work and Jock Mooney's sculptures, the delicacy of touch and feel is gifted by Bob and Roberta Smith's wall installation, while the nuances of sound and hearing are tuned out by Neil Zakiewicz. As for the sense of taste on offer, the opening night saw the little artists (famous for creating quirky Lego reproductions of contemporary artists and their works) provided refreshing ice-lollies in the form of Marc Quinn's 'Blood Head'. Made of strawberry flavouring, some might consider them dis-tasteful but these tiny ice replicas on wooden sticks were an undeniably delicious taste to savour as accompaniment to sensually experiencing the whole show. But what of the smell? The lively space was odourless all except for an air of amusing excitement that scented the gallery arena. In interview Alvarez reveals "I do like to look at how humour is utilised in art, I think it's quite an interesting discourse around it"
Spanning two floors, the show is presented throughout three rooms of various art media. And with two staircases it is possible to endlessly run around the space like roaming through an adventure funhouse that shares a raucous order akin to the feel of a noisy school playground!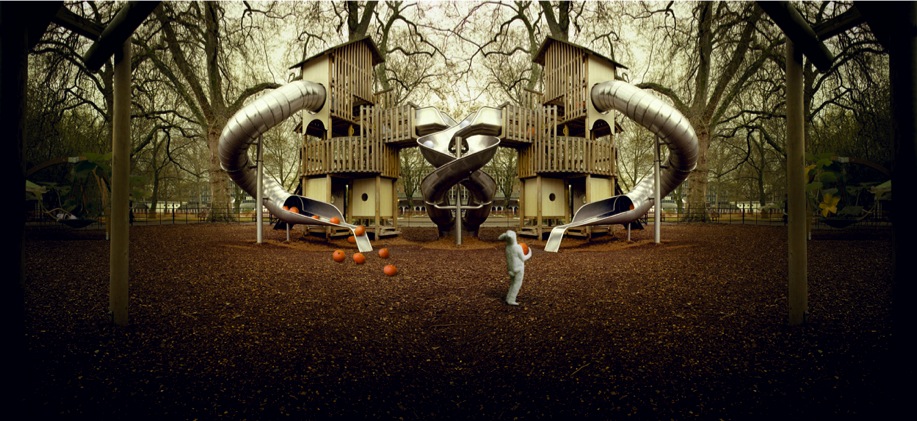 'Endless Pumpkin Machine', Toshie Takeuchi (2005)
Four of the artists in this playground like show are represented by BEARSPACE, and Toshie Takeuchi is one of them. From the childhood nostalgic imagery evident in Takeuchi's work one can see exactly Alvarez's reasoning for her inclusion. Her works are often inhabited by imagery of children in rabbit costumes in an eerie nightmarish scenario. The playful darkness of her photographic manipulations brings to mind the strangeness of children's literature by Maurice Sendak that makes the work linger nostalgically with childhood memories. The main structure within Takeuchi's panoramic piece 'An endless Pumpkin Machine' is a mirror image of a twisted slide adventure playground hut that resonate a sinister touch. The pumpkins rolling out from within the imposing chrome contraption housed under the tall bare branched trees surrounding evokes an unnerving sight the likes of a Hitchcock movie. And in the foreground is a child dressed as a rabbit carrying a pumpkin which echoes the advent of Halloween. The success of Takeuchi's digital montage is how the images stage a fine subtle play in creating a nostalgic and surreal dreamscape.
Alongside the photographic work of Takeuchi is the offering from Scottish YBA artist Anya Gallaccio. Entitled 'White Ice', it is sweetly seductive with a mesmerising shimmering quality. Like a young girl who has just discovered her mother's make up, Gallaccio's piece doesn't hold back on making itself thoroughly glam! Although presented statically onto the gallery wall, as you move around the picture new dimensions are opened up to the viewers gaze. This illusionary composition at first appears painterly but beyond its fabricated sparkly foreground lies an eerie dark foray echoing from underneath. And sitting alongside Takeuchi's enigmatic photo-montage these two play teasingly and menacingly well together.
In the upstairs back room of the gallery Laura White's bombarding video projection over collage ('Dynamo Bi-K') brings together an entrancing interaction of video and sculpture. Collage work is always fun to indulge in both creating and viewing as it allows for a playful altering of things that are pre-existing. An amalgamation of curious imagery flits across a large three-dimensional collage array of magazine images and other average consumer imagery. Courtesy of the Guardian newspaper free-be efforts we find among White's work animal stickers familiar to many a Guardian reader! The delight of this piece is that it works as consumerist regurgitation, overloaded and spat back. She is the phlegm flogger of the school yard but not without cause. White is indisputably comparable to being the Hannah Hoch of the digital video age. The play of her works lies in the relationship between the image projected, the images projected onto and the combination that the viewer receives.
Gucci Hoop is about man versus nature. I have incorporated the Gucci fabric which represents "new" or glamourous or luxurious capitalist society. The branches are tangled up in the fabric and represent a "old" natural society, which is where the dreamcatchers come in. The dreamcatchers are a symbol of Native American mysticism, or religion. The dreamcatcher's initial intention is to protect people from evil spirits, thoughts and dreams. Nowadays the symbol is highly commercialized and sold to tourists as a reminder of an exotic culture which has been mostly lost.
Years later the precious metal gold caused mass exodus of pioneers into the west towards the promissed land of California where they might become instantly wealthy. I use gold in my work to represent the idea of glamour and wealth but I am also interested in its consequence; a material such as gold may cause enormous destruction.
Whilst the American artist Sarah Baker presents to us a collage work that appears like a ship wreak. The piece is entitled 'Gucci Hoop' and incorporates fashionable Gucci fabrics that toy with twenty-first century representations of glamorous capitalist society. The fabrics clutter a large arrangement of looming tree branches. The branches rise up the gallery wall and connote a nightmarish Svankmajian Otik-like life of their own, glammed up in fine Gucci wear. Baker sees these branches as portraying the originally native American ritual of dreamcatchers and at the same time belonging to a touristised funked capitalist brutality of commercialising dreamcatchers!Baker's mark in the exhibition is of a notable presence with the impressive scale of her work although she is poorly represented in the show's catalogue in relation to her work.
Another American artist appearing here is Doug Fishbone, most famous for filling Trafalgar Square with 30'000 bananas back in 2005. Fishbone's work on display here is similar in tone to both White's and Baker's. Following the principle of taking found images from everyday consumerist interactions, Fishbone vindictively replays the appropriated images back out. Using images selected from random Google searches and offered back through the lesser interactive medium of video, Fishbone provides a flickering advertising board-esque visual attack of randomness. These seemingly meaningless images are then coupled with a narrative voice over that tells silly rhymes about philosophers and ends with the story that is the title piece, 'Footprints in the Sand' (2003). The play of this piece is seen in the relationship between images and spoken words, the meaning of which proves that efforts of anti-narratives form narrative. And what could be more nonsensically Dada?
But it is not all visual play on offer in this show. The typical style of works by Bob and Roberta Smith (aka Patrick Brill) is to make written signs on pieces of found board. But here the Smith's offering is the world of signs for those who are visually impaired. A found array of boards mounded to the wall of the gallery, as is expected of the Smith's works, is to be seen without writing. That said though, this work is not to be seen at all, titled as 'Painting for the Partially Sighted' (2007) the work encourages to be read through the language of touch. Is this though a giant Braille message or just a cruel hoax? Which ever way one thinks of it this piece is more friendly to the visually impaired that anything else on offer. And why should the blind not be able to indulge in the pleasure of art?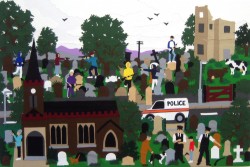 'BB Guns at Law Stand', Paul Caton (2005)
Another artist whose work you might desire to touch but probably shouldn't is that of Paul Caton. His offering in this show is comprised of cut out and collaged flock backed card that is nostalgic of the 1950's popular children's toy Fuzzy Felts. The Felts were designed to allow small children to create colourful picturesque depictions of everyday scenes such as farms and bustling towns using simple flocked backed cut out card shapes. Caton has taken what is now seen as a sickeningly romanticized out dated views of happy wholesome white English towns, suburban area and farm lands that Fuzzy Felts portrayed and has instead created a collage work that embodies nostalgia with new social trends, such as the social honour of the ASBO culture.
During the 1990's production of Fuzzy Felts moved out of Britain and overseas to the Middle East. The void of which Caton could be said to be commenting, has worsen the quality of life, creating unemployment and accounting for more scenes of troubled hooded youth gun culture as has risen in Britain since the 90's. Not that Fuzzy Felts can be entirely blamed for this. As something traditionally child friendly to play with, the scenes which Caton presents are anything but. Youthful hooded delinquents run riot with guns through fields, churchyards and other traditional Fuzzy Felt scenarios! There is something obviously humorous in Caton's playful depictions of modern youth culture made to resemble Fuzzy Felt but at the same time the sub text is frightfully honest.
Peter Harrap exhibits two paintings in this show that provoke issues of torturous existential teenage notions that the World is without meaning. 'When I have fears' a new large scaled painting of spray and oil on canvas illustrates a bored looking teenager within a pseudo glam back drop of acid house graffiti featuring a sad scrawl of self loathing that reads, 'When I have fears that I may cease to be'. These words appear to link the teenager with the dead and bleeding squirrel in the lower right corner of the composition. The two together prompt Sartre-esque existential questions that although dull actually equivocate something of a truly bored teenager experiencing suffering. The same can be seen and said for his other painting here, 'It fluttered and failed to breath', portraying a melancholic teenager sat upon a stool, knees curled up to the chest in a protective gesture looking on, horrified at the side of a dying bird. Harrap's paintings though are the unsettling intruder among all these other artists. His appearance here is unnecessary.
In contrast the upbeat work of Neil Zakiewicz doesn't fail to bring back a smile from existentialist misery. Encouraging interactive participation with a custom made guitar shaped as an over sized painter's palette (body) and paint brush (neck). Is it more that mere novelty though? The guitar is found resting on an easel and plugged into an amplifier hidden inside a foam board on the wall behind it. The fun in this work is primarily the aesthetic value, unless you can play like Brian May, but whilst wanting this to not be just gimmicky, this piece has no more of a pastiche that being something looking like a palette and brush but is just a guitar. However, it could be said to connect both visual craftsmanship and painterly abstraction back together with music but the two were always separate. It remains though an enjoyable work, offering the chance to trip back to days of getting teenage kicks. But it isn't what you play but more how you play it.
Along with Takeuchi, Caton and Zakiewicz appears Max Hymes, the fourth BEARSPACE artist representative in this show. Hymes makes works of sculpture as well as works on paper. For this collective he has chosen to offer a puzzling situation of items that among them feature mirrors, the office cabinet and the wooden diamond appendix shines a sumptuous pineapple at the installations pinnacle. Although it resembles a pineapple, one can not be sure if it is a pineapple that actually resides underneath the object's exterior of brightly coloured office stationary pins. And from the humorously pseudo-monumental positioning of the object obscured by elements of routine banality (office pins) one can begin to see what Hymes' construction is really getting at. The ephemera of the pineapple as a consumerist produce and a symbol of trade and Western colonialism, the modern values that in this self obsessed image conscious age remains in vanity, admiring one's self in mirrors has altered traditional values. Hymes' work however is not to be seen as traditionalist but it certainly is inoffensive to old values. Perhaps overall it is best viewed as a comment on how played down the colonialist empire of Britain has become. Certainly if this to be the case, then Hymes' placement of the mirrors seems to suggest the viewer reconsider themselves in their reflections of what a garish pin covered pineapple means to them?
A perfect companion to Hymes' piece is the monumental book sculpture work of Jonathan Callan. An amalgamation of various sized books sits solemnly in the corner of the gallery space. The books spread open are fixed together thus changing their purpose, destroying their value as containers of text and re-instating a new text to their presence. The piece is a playful collage and the re-functioning of pre-existing elements which pronounces the work creates connotations of grave stones.
The biggest names in the line up here are the extraordinarily well established pair whose background needs no explaining. The Chapman Brothers are a modern day Brothers Grimm and for this show they have opted to present a small scale work entitled 'My auntie went to see hell and all I got was this lousy souvenir'. A title taking grace from a popular t-shirt slogan culture and at the same time self referencing their other work, the monumental 'Hell'. The Chapman's work features miniature nude figures that are depicted ascending a small mount to over throw a single figure emblazed with a swastika logo. As the coup rally toward the distinct outsider their bodies are colliding and morphing into masses of limbs. The fun in this piece is its devilish charm, the tragic-humour of destruction that inevitably befalls all who enter into organised systems. Though the Chapman's are largely deemed as offensive to millions, there is nothing overly menacing about the work of two men who nostalgically romanticize scenes of mutilation like two small boys drawing nasty caricatures of their teachers! But it is the obvious social commentary that runs through their works that makes them more that playful big kids and placing them firmly as quintessentially brazen artists in their own self glorious right.
Another pair whose work has that big kid quality to it is that of Natasha Kissell and Mark Djiewulski. The duo created a piece that could be mistaken for an architectural sight model. Entitled 'The Beast of Bodmin', the work is housed in a large glass box obscured by vinyl, forcing the viewer to gaze inside strategically. On the exterior of the box are a series of buttons that when engaged with project varying tones of light on the scenario within. And inside resides a small model building with a model figure inhabitant. The structure is surrounded by model trees and a reflective pool covers most of the interior. There is more to this though that first impression suggest. On closer inspection something surprising lurks within, a secret frightening element awaits the viewer's discovery.
Matt Franks' large scale sculpture, 'Bellicose Sentinel' appears to dance in the light at the centre of the gallery space. With its inoffensive Styrofoam rigour the work is reminiscent of Dali and the two prong fork icon of male and female figures. Two tall forks face opposite one another, connected by the addition of a telescope cum giant spray can between the two forks. A whispering sense of domesticity lends itself to the work but the main context of this giant toy like sculpture is the relationship played by the two forks dancing, sexually, together with self awareness of identity and yet an uncertain trauma. Fittingly the work is as dark as others on show here.

Foreground: 'Discontinued', Jock Mooney (2007)
Background: 'It Fluttered and Failed for Breath', Peter Harrap (2007)
The largest play of images within the show comes from the emerging talent of recent graduate Jock Mooney. The Scottish artist is a prolific sculpture and his latest project revealed here for the first time is entitled 'Discontinued'. Mooney's work is characterised by its humorous, anarchic replay of cultural aspects. This artistic deviant teases the values of mythology, religions, pop-culture and banalities into twisted garish toy-like sculptures. A glossy replica of the Virgin Mary sits atop this disposable mockumental monument whilst images of shitting dogs and worms collides with a transforming human cum tree character and a series of wreaths among other strange and random hand sculptured incarnations. Mooney announces on his website that the concerns of 'Discontinued' are "a mound of cardboard boxes littered with objects - part shrine, part stock room. Imagery inspired by video nasties, milagros (Spanish term for miracles) and warped toys nestle amongst souvenir-like tack, with a looming sense of current day 'horror'" . Discontinued is seen to be an unfinished work, suggested by the transitional significance of cardboard boxes as well as the title.

The overall success of this show is the similar collective ethos of rebellion that the artist 's works play out. All, except Harrap, encompass an attitude of defiant fun that make this anarchic gallery offering the prospective upcoming stars they are, soon to be found atop the art market spectrum coaxing in the crowds at the big name venues. Alvarez shares a notion that art is for her about rebellion, she claims "there is a rebellion that has to go on, as galleries and artists we are being very true to contemporary art, in some ways there has to be rebellion." The distinctive feel of this show is the exciting promise of more to follow.
Bibliography
http://www.bearspace.co.uk/explay.html
http://www.jockmooney.com